We offer some unique programs to help make your wedding film investment more manageable.
Bridal Registry
Precious Moments Wedding Films has made it easy to receive the perfect gift. Just contact us to set up your Wedding Film Bridal Registry and then family and friends can donate to help pay for a portion of your wedding film investment! The registry link can be accessed from our website, from your website or even printed on shower or wedding invitations. So contact us today to set up your registry link!
Give A Gift
Just click on the name of the couple listed below that you would like to send a gift too. We will then redirect you to our PayPal page where you can contribute any amount that you designate. You will then receive a confirmation e-mail, as well as a personalized gift certificate to present to the couple at their Bridal Shower or on the Wedding day! No Paypal account? No problem, our Paypal account also accepts all major credit cards!
Payment Plan
We offer a convenient No Fee, No Interest payment plan option to help make your wedding film investment more manageable. This plan allows you to carry over a remaining wedding film balance of up to $1000 and pay it over four months following the wedding day.
Referral Program
Would you like a free wedding film? Our referral program provides an opportunity for you to earn referral credits for any referral that books Precious Moments Wedding Films. Earn five referral credits before your 2nd wedding anniversary, and we will write you a check for the full amount you spent on your film. So don't wait. Start referring us today!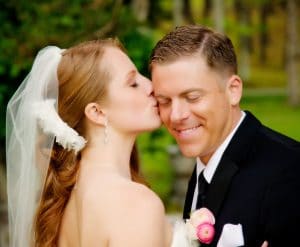 Click the appropriate link to give a gift
Tom Teneriello & Lisa Letendre 08/08/2018
---